Thống kê truy cập
Trực tuyến:

2

Hôm nay:

593

Tuần này:

1023

Tuần trước:

3256

Tháng trước:

3849

Tất cả:

939706
Máy khuấy mịn Cemco Việt Nam
Đại lý CEMCO Việt Nam - CEMCO Vietnam có thư ủy quyền chính hãng
Being light in weight and miniaturized, an ultra high performance
chemical mixerthat has won a Good Design Award.
By means of an ultra small high efficiency impeller and a stator of a screw
designthat exploited the technical expertise of the Shipbuilding Research
Center of Japan, there occurs no vortex on water surface.
Chi tiết sản phẩm
Advantages
・For the purpose of miniaturization and weight reduction, titanium is used for the shaft,
and PPS resin is used for the impeller. The weight is only 2.8 - 3kg!
・Because the mixer is miniaturized and lightweight, no dedicated platform is required
when installing the mixer onto a tank.
・An ultra small high efficiency impeller that has been developed by exploiting the technical expertise
 of the Shipbuilding Research Center of Japan.
・By employing the ultra small high efficiency impeller, the mixer can be installed onto
 the mouth of a drum, etc. as it is.
・By employing the ultra small high efficiency impeller and the stator, there is hardly
 any occurrence of cavitation.
・With the impeller and shaft being set beforehand, no on-site assembly work is required.
 If the JIS 5K 50A flange is detached,
 the mixer becomes of the PF2B screw-in type as well.
・Since no gear speed reduction is employed, there is hardly any sound or vibration.
・Because materials such as PP/titanium/PPS/PTFE are used as standard specifications,
 the mixer has excellent corrosion resistance and is best suited to the dissolution of chemicals.
・Using the best materials that have been chosen, high cost and high performance are realized.
・The materials of the guide and stator of the standard type are PP,
 of which heat resistant temperature is 80℃
 (those made of PVDF have a heat resistant temperature of 100℃).
・Put the double-oil seals to the motor side and housing of main body side,
 that prevent the ingress of corrosive gases.
・We won the special prize of Smaller Enterprise Agency's Director in the 1997.
 It is possible to install to the outside field, and we stuck to the chemical mixer's appearance.
・Handy grip which is holding the chemical mixer by hands to use.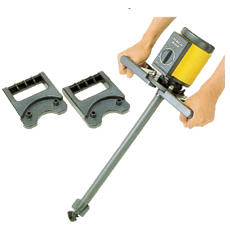 ・Dissolution of chemicals.
・Dissolution of salt or powder.
・Dissolution of fertilizers.
・Agitation in an reaction tank.
・Agitation of stored solution.
Specifications
Type

Voltage

Output

Frequency

Number of revolutions

Rated current

Rated current

Maximum mixing capacity

Weight

TCM-455

100/
200V

45W

50Hz

2700rpm

0.88A/
0.4A
JIS 5k 50A
Flange

200L

2.9Kg

TCM-456

100/
200V

45W

60Hz

3200rpm

0.88A/
0.4A
JIS 5k 50A
Flange

200L

2.9Kg

TCMS-455

100

45W

50Hz

500~
2600rpm

0.88A

JIS 5k 50A
Flange

200L

2.9Kg

TCMS-456

100

45W

60Hz

600~
3100rpm

0.88A

JIS 5k 50A
Flange

200L

2.9Kg
Tin cùng chuyên mục